"X-Ray Vision"
Information
Episode:
40 (14a)
Airdate:
August 3, 2014
Writer(s):
Mr Pookie
Storyboards by:
Mr Pookie
Episode guide
Previous
License to Breath
Next
Back in Time
X-Ray Vision is the fortieth episode in the first season of 6. It is the fortieth episode overall.
Synopsis
Peanut gets X-ray vision.
Characters
Potato
Peanut
Apple
Chef Steak
Drumstick
Cake
X-Ray Vison Spirit
Cast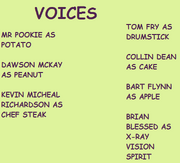 Mr Pookie as Potato
Dawson McKay as Peanut
Tom Fry as Drumstick
Collin Dean as Cake
Kevin Micheal Richardson as Chef Steak
Bart Flynn as Apple
Brian Blessed as X-Ray Vision Spirit
Trivia
Brian Blessed guest starred as the X-Ray Vision Spirit.
On this episode's premiere night, the X-Ray Spirit's star upon its first appearance flashed from green to black. This was changed to just green on reruns as they could have been a potential cause for seizures.
Gallery
Ad blocker interference detected!
Wikia is a free-to-use site that makes money from advertising. We have a modified experience for viewers using ad blockers

Wikia is not accessible if you've made further modifications. Remove the custom ad blocker rule(s) and the page will load as expected.