The Cheeto Daze 
 
Genre:
Animated comedy 
Creator:
Matthew Stone 
Number of seasons:
3 
Number of episodes:
18 
List of episodes:
List of The Cheeto Daze episodes 
Runtime:
22-23 minutes (11 minutes per segment) (approx. per episode) 
First aired:
March 1, 2008 (Teletoon)
Janurary 1, 2009 (Nickeldoeon) 
Last aired:
August 23, 2010 (Teletoon)
present(Nickeldeon)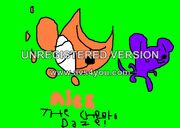 The Cheeto Daze was a Teletoon original and is a Nicktoon. On March 1, 2008, it premiered on Teletoon, and then on January 1, 2009 for Nickelodeon, Nicktoons, and NickTV. On August 23, 2010, Teletoon cancelled and wrapped up the show, while Nick was hired to continue the show. The show was based on a few 2004 Nicktoons bumpers and Matthew Stone's mother's ex-boyfriend's cat named Cheeto & some chips named "Cheetos"
Characters
Cheeto: A brave & Child-like orange cat who loves chasing mouses & the pet of Matthew.
Matthew: A smart boy who owns Cheeto & always catchs the cat.
Mouse: a purple mouse & Cheeto's biggest rival yet.
Chester Cheetah: Cheeto's Cousin.
Woots: Cheeto's Girlfreind.
Dark Cheeto: The Anti-Cheeto!