The Bagel Show® is an American animated television show that first aired on Cartoon Network on January 6, 2012, and was acquired by Spikes/TNT in March 7, 2015. The show follows the exploits of an alien nicknamed Bagel who crash-lands onto Earth after 12 years of aimlessly drifting in space. There, he struggles to understand Earth society and culture, learns more about his past, becomes acquainted with people and attempts to overthrow a tyrannical ruler. The show received positive reviews from critics and audiences, with large amounts of praise going towards the characters and morals. The show grew a large fanbase and was very popular during its run, thus leading to a television film being released in 2016. The show ended on July 12, 2019. The series is mostly rated TV-PG, while some episodes carry the TV-PG-V rating.
Premise
A young alien named Bagel crash-lands onto Earth, with no memory of his past, and does not fully comprehend basic human interaction. He ends up in the aid of Invader Rob, who later introduces him to MattBoo and Doug. As the series progresses, Bagel learns more about interaction, his past, and other things, all while combating a corrupt ruler named King Kingman and attempting to seize his control over New City, a large metropolis concealed in a barrier from the rest of the outside world. Various story arcs are introduced throughout the series, with the most prominent ones being about Bagel's past and an ongoing conspiracy revolving around King Kingman's motives and his power over the city.
Characters
Main
Bagel : The show's title character and main protagonist, Bagel is an alien who hails from the now destroyed planet Kreon. He knows very little about his past and spends a majority of the series attempting to piece together who he is and where he came from. He starts out as impatient, irritable and generally uncaring for most people due to his current situation and his frustration with understanding Earth society. As the series progresses, he begins to soften up as he realizes that the city needs a willing and determined person like him to fight for their freedom, becoming an overall much more positive and jovial (if still irritable and crass) person. Despite his endless confidence, Bagel is extremely weak, which causes him to have an over-reliance on his friends and allies.</span> Voiced by Johnny Yong Bosch
Invader Rob : An Xeein who is the first real person Bagel ever communicated with. Rob originally came from the planet Xial, where the entire species are born to serve their government and destroy weaker planets. Knowing that this was morally wrong, Rob escaped his planet and is now a wanted fugitive by the Xeein government. Rob is very intelligent and resourceful, and often makes various gadgets and inventions to improve life for the people around him. Rob often takes everything seriously, almost never cracking a joke at the situations the gang find themselves in. He is also very stern and has a giant ego, which mostly results from his intelligence. He is also very much a foil to Bagel's (at first) cocky attitude and irritability, acting as somewhat of an older brother to him. Voiced by James Marsters
Matt : A 8 year-old spirit. Like Bagel, Matt knows very little about his past and where he came from, which causes him and Bagel to form a strong bond due to their similar situations. Matt is very immature, often making crude and crass jokes, and is also very optimistic and happy-go-lucky. Matt is often considered to be the "heart" of the group due to his many positive and friendly traits. He adores his friends and will always take an opportunity to spend time with them. Voiced by Madeleine Martin
Doug : A ambitious, though very self-centered green puffball. Doug's family was torn apart by his father, who became obsessed with a mysterious organization that appeared to have the answers to his father's questions about life and power. Doug tries to keep his past private, but all his efforts were futile. Doug is very much considered the "jerkass" of the gang, often only looking out for himself and acting very similarly to an internet troll to everyone he knows, even his friends. Doug also does not take the situations the gang find themselves in seriously, often cracking a joke in the face of danger. However, Doug does indeed have a soft spot somewhere inside him, and is afraid of losing the people he respects. Voiced by Todd Haberkorn
Secondary Main
Selena: A mysterious human hybrid who maintains a friendly rivalry with the main four. Her parents were very much abusive, often claiming that she was "worthless" and incapable of surviving out in the real world. In order to escape her parent's abuse, she moved to New City in an attempt to quench her thirst for adventure and acceptance. Like Rob, Selena is very serious and stern, and has a hard time accepting herself and what she does because of her parent's abusive behavior. Voiced by Michaela Dietz
Lucy: A perky and optimistic human hybrid who is Selena's best friend and housemate. Created in a laboratory by a unnamed scientist attempting to revive his deceased daughter, Lucy has not seen the man ever since she was created, nor does she know that she is technically his daughter. Throughout the series she attempts to piece together clues as to where he could be, but she is rather nonchalant about all this and would rather just focus on her own life. Lucy is extremely perky and all-around bubbly and very social. Voiced by Monica Rial
Recurring
Collector: A stern and quiet immortal, who thinks that King Kingman is hiding something from the citizens, which is the only reason why he resides in New City. He frequently interacts with Bagel and the gang, but does not directly help them out in battling King Kingman, as Collector strives to find a peaceful solution. Voiced by Nolan North
Mage: A mysterious individual who usually sneaks into New City to work with Collector in bringing down King Kingman. He is serious, quick-witted, observant and cynical. It is rare for him to be caught off-guard or deceived. He doesn't have high regards for anything and is brutally honest, which leads people to interpret him as rude (which is sometimes true). He is bold and doesn't care what others think of him. Voiced by Kayem-san
Aki: A rebellious teenage girl who is often seen vandalizing King Kingman's castle. She frequently sneaks into King Kingman's castle, and gives information about it to Collector and Mage to assist them in taking down King Jerk. She is very anti-social, but fun-loving. She looks up to Collector as a big brother. Voiced by Tania Gunadi
Sir Random: Invader Rob's Unit Bot. He often acts very "random", often babbling nonsense and generally being unpredictable. Voiced by Gilbert Gottfried
Krazy: Krazy is a Suklon from planet Suklonia. He first appeared in season five, where his tentacles grabbed the roof of Invader Rob's house by accident. When he brought it back, he met the gang and then got a house. The house is explored in season six. Voiced by Greg Cipes
Villains
King Kingman: The show's main antagonist, who is a sadistic power-hungry king who rules over New City, Oregon. He often sets out to harm people who "mess up his town", with one of those people being Bagel, his arch-nemesis. King Kingman was previously a respected and beloved king, treating his citizens with respect and generally being a good ruler. However, for unknown reasons, his personality was drastically altered into a sadistic egomaniac who disrespects pretty much everyone. During this change in personality, he built a large barrier over New City, from which nobody can escape from. He claims that nobody can leave the city until he finds "the thing", an object that remained mostly unknown until the final season of the show. Voiced by Lex Lang
LT: King Kingman's sidekick. LT often acts like an immature child, always agreeing with whatever King Kingman has to say, and is very clumsy. Throughout the series, it is often implied that he has secret intentions towards King Kingman and the rest of the city, though this question isn't answered until the final story arc. Voiced by Nolan North
Lord Trov: Doug's (evil) father, who is an evil warmonger who leads the Vrunlost army. He is very cunning and often full of surprises, but is easily distracted. Voiced by Eric Bauza
Minor Characters
Æ: A blue puffball who sometimes sneaks into New City, often working with Collector and Mage. He is often kind and treats everyone with respect.
Sidney: Sir Random's wife, who is often the voice of reason within her dysfunctional family. Though she loves her husband, she often finds herself questioning her marriage. Voiced by Monica Rial
Casy: Sir Random and Sidney's 6-year old daughter. Her behavior is similar to that of stereotypical six-year-old: playful, immature and silly. Voiced by Tara Strong
Morningstar: An alien who has many powers. He is, however, very dumb, which causes him to unknowingly harm the city.
One-off characters
Fate Man: An arrogant samurai warrior who believes everything he does is the result of fate. He used to own Bagel's cane, until Bagel took it.
Dougo: Doug's ego, who manifested itself into a living being thanks to Rob. He is an overall exaggerated version of Doug, who is bent on making himself look good and forcing his pride upon others.
Story/Character Arcs
Arc
Episodes
Description

King Kingman/LT Fan's Origins Arc

TBA

TBA

Kreon Arc/Bagel's Arc

TBA

The Kreon arc explores the origins of Bagel's home planet, Kreon, as well as provides character interactions between Bagel's deceased parents. These episodes also provide character development for Bagel, who often learns something from discovering about his past.

Collector and Mage Arc

8
12
20
27
39
47
60
81
100

These episodes follow Collector and Mage and their attempts to break into King Kingman's castle, in hopes of finding incriminating information or clues leading to the mystery of how his mind drastically changed. While this arc does not generally focus on character development, it does help the overall plot of the series move forward.

Vrunlost Attack Arc/Doug's Arc

30
67
78
79

TBA

Identity/Selena's Arc

TBA

TBA

Project Hy/Lucy's Arc

96
97
98
108

TBA

Trapped on Xial/Rob's Arc

TBA

This arc focuses on Rob's grim past, where he was involved with the Xeein armada and assisted in the destruction of several planets. This arc mainly offers a new perspective of Rob's personality and the guilt he feels for being part of the armada

Parents/Matt's Arc

TBA

TBA

The Warules Arc

TBA

TBA

The Fall of a King/Supreme Order

155
156
157
158
159
160

TBA
Trivia
Lloyd, a character from another one of IAmBagel's shows, CircleCity, can be seen on Lucy's shirt.
Bomb, a character from Rock n' Bomb, can be seen on Selena's shirt.
A running gag in the series involves Rob always burying bugs that he "accidentally" killed, mostly fireflies.
Selena was inspired by a friend IAmBagel used to have in real life (in terms of personality).
During the show's panel at the 2015 San Deigo Comic Con, Todd Haberkorn, Doug's voice actor, showed up with a homemade Doug puppet and talked in-character for a majority of the panel.
Media
Television film
Main Article: The Bagel Show: Rise of Kreon
DVD Releases
DVD name
Release date
Additional information

The Bagel Show: The Landing

January 27, 2014
Contains The Landing, A Guide to Cloning, Doug vs. SSK, The Conspiracy, Meet the SIRS, You've Got a Rival in Me, The Immortal, A Girl, And a Castle, The Core, King of Nothing, Offense, Defense, and The Cane

---

Commentary on all episodes

---

Tour of New City

---

Character bios

---

Selectable pop-up trivia tracks

The Bagel Show: A Visit from the Past
August 12, 2015
Contains A Visit from the Past, Daddy Issues, Metal Fists, An Irken's Tale, I Am The Law, Losing Control, Castle Crashers, Death Dome, The Message, Corruption, Mib's Movie and Gem Hunt

---

TBA.
Broadcasting
Broadcast Map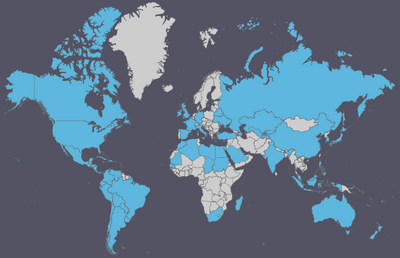 Broadcast Table
Country
Network(s)
Premiere date
Timeslot
Language
United States
Cartoon Network
January 6, 2012, March 7, 2015 (Spikes)
Fridays at 7:00 PM (new episodes) (2012–present)
Weekdays (reruns) (2012–present)

Weekdays and Weekends at any time (Spikes)

English
Canada
YTV
• lCartoon Network
January 6, 2012
• September 8, 2012
Saturdays at 7:00 PM (new episodes) (2012–present)
Weekdays (reruns) (2012–present)
• Weekdays and Weekends (reruns) (2012–present)
English
United Kingdom & Ireland
Cartoon Network
• Nicktoons 1000 (UK Only)
February 4, 2012
• January 7, 2014 (UK Only)
Saturdays at 5:30 PM (new episodes) (2012–present)
Weekdays (reruns) (2012–present)
•Weekdays (reruns) (2012–present)
•Weekdays (reruns) (2014–present) (UK Only)
English
Latin America
Cartoon Network
March 3, 2012
Wednesdays at 6:00 PM (dubbed, new episodes) (2012–present)
Weekdays (dubbed, reruns) (2012–present)
Spanish
Portuguese (Brazil)
French (Haiti and French Guiana)
France, Switzerland, & Wallonia
Cartoon Network
April 14, 2012
Saturdays at 10:30 AM (dubbed, new episodes) (2012–present)
Weekdays (dubbed, reruns) (2012–present)
French
Netherlands & Flanders
Cartoon Network
April 14, 2012
Saturdays at 11:30 (dubbed, new episodes) (2012–present)
Weekdays (dubbed, reruns) (2012–present)
Dutch
Australia & New Zealand
Cartoon Network
July 14, 2012
Saturdays at 6:30 PM (new episodes) (2012–present)
Weekdays (reruns) (2012–present)
English
CIS
Nickelodeon
September 13, 2012
Thursdays at 7:30 PM (dubbed, new episodes) (2012–present)
Weekends (dubbed, reruns) (2012–present)
Russian
Japan
Cartoon Network
October 27, 2012
Saturdays at 4:00 PM (dubbed, new episodes) (2012–present)
Weekdays (dubbed reruns) (2012–present)
Japanese
China
Nickelodeon
November 16, 2012
Fridays at 8:00 PM (dubbed, new episodes) (2012–present)
Weekdays and Weekends (dubbed, reruns) (2012–present)
Chinese
India
Cartoon Network
December 3, 2012
Tuesdays at 7:00 PM (dubbed, new episodes) (2012–present)
Weekdays (dubbed, reruns) (2012–present)
Hindi
English
Tamil (Subbed)
Telugu (Subbed)
South Korea
Cartoon Network
December 14, 2012
Sundays at 11:30 AM (dubbed, new episodes) (2012–present)
Weekdays except Thursday (dubbed, reruns) (2012–present)
Korean
Middle East
MBC 3
January 17, 2013
Thursdays at 6:30 PM (dubbed, new episodes) (2013–present)
Saturdays and Mondays (dubbed, reruns) (2013–present)
Arabic
South Africa
Nickelodeon
February 8, 2013
Fridays at 7:00 PM (new episodes) (2013–present)
Weekdays and Saturdays (reruns) (2013–present)
English
Cast
TBA
International versions
Main Article: The Bagel Show/International Versions
Reception
The Bagel Show has received positive reviews from critics, with most of the praise going towards the characters, overarching plot, and morals presented. The series currently holds a 8.5/10 on IMDB from a total of 19,012 reviews.
Fandom
The show's fandom has often been compared to the fandoms of Gravity Falls and fellow Cartoon Network programs Steven Universe and Adventure Time, which is mostly a result of the show's rising popularity on the blogging website Tumblr. TBA
Reviews
If you would like to review this show, then go to The Bagel Show/Reviews.
Fanbox
Gallery
Ad blocker interference detected!
Wikia is a free-to-use site that makes money from advertising. We have a modified experience for viewers using ad blockers

Wikia is not accessible if you've made further modifications. Remove the custom ad blocker rule(s) and the page will load as expected.