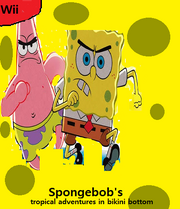 This is a game that I made for the nick Fanon con, sorry for the delay
Right now there is a demo of the game which you can play here:http://scratch.mit.edu/projects/Nodog438/2004167
The Story
Spongebob finds a evil fish that wants to take over Bikini Bottom...Spongebob also finds that there is only 10 days to live due to a misfunction in a machine...you get it
Characters
Main SpongeBob •Patrick •Sandy •Squidward •Mr Krabs •Plankton •Gary
Major Mrs. Puff •Pearl •Karen •Mermaid Man •Barnacle Boy •Larry the Lobster •Nat Peterson •Harold •Scooter •Betsy Krabs •Man Ray •Dirty Bubble •Squilliam Fancyson •French Narrator •Mable •Old Man Jenkins •Tom •Lou •Lenny •Cora Rechid •Monroe Timmy •Shubie •Dennis •Johnny Erain •Martha Smith •Sally •Flying Dutchman •Patchy the Pirate •Potty the Parrot
Minor Annette •Bubble Bass •Bubble Buddy •Bubble Bust •Bubble Elephant •Buiser •Carl •Clamu •Craig Mammalton •Dexter Blubbuns •Jack M. Crazyfish •Dennis (mercenary) •DoodleBob •Dr. Marmalade •Filthy Phil •Milo J. Finkerfish•Flatts the Flounder •Frank (citizen) •Frank (store owner) •Gene Scallop •Glovie •Gorilla •Grandma SquarePants •Heart Man •Horace A. Whopper •Horace B. Magic •Jim •Karen 2 •King Krabs •Marty •Queen Mildew •Mrs. SquarePants •Patar •Patty •Mindy •Mr. Seaweed Monsterman •Moth •Perch Perkins •Prawn •Salesman •Sandman•Sea Bear •Sea Rhinoceros •Smitty Werben Jigger Man Jensen •Spat •Squid Wood •Mr. Bakerman •Stinky •Tattletale Strangler •Mr. Tentacles •Mrs. Tentacles •Tina •What Zit Tooya •Nicholas Whithers •George the Zebra •Painty the Pirate •Dr. Manowar •David Hasselhoff •Lion Fish •Kevin C. Cucumber •Nosferatu •Queen Amphitrite •Robot SpongeBob •Robot DX29488
Groups TUOOFATTAFAD •Anchovies •Bikini Bottom Symphony Orchestra •Blue Jellyfish•Jellyfish •Boys Who Cry •SquarePants family •Tentacles family •Krabs Family •Plankton Family •Patrick and Gary's family •Cheeks family •Ned and the Needlefish
Sorry for copying and pasting, btw
Trivia
They celebrate Ernest Borgerine's funeral
Spongebob is seen playing "Super Scallop Bros." in the beginning. This is a refrence to Mario.
Levels
Level 1:Bikini Bottom
Level 2:Glove World
Level 3:Rock Bottom
Level 4:Shell City
Level 5:Atlantis
Level 6:New Kelp City
Level 7:Kahmamoku Cove
Bosses
1:DoodleBob
2:Evil Glovie
3:Bad Monster
4:Thug
5:???
6:Angry Citizens
7:???
Ad blocker interference detected!
Wikia is a free-to-use site that makes money from advertising. We have a modified experience for viewers using ad blockers

Wikia is not accessible if you've made further modifications. Remove the custom ad blocker rule(s) and the page will load as expected.