"Sack 'o' Pain"
Information
Episode:
29
Airdate:
January 16, 2003
Writer(s):
Mr Pookie
Episode guide
Previous
Stuck in the Phone Box (season 2)
Next
Little Guys
Sack 'o' Pain is the first episode in the third season of Pookie's Awesome Cartoon Thing. It is the 29th episode overall.
Synopsis
Pookie recieves a sack in the mail full of pain, but it goes haywire and starts destroying the city.
Characters
Pookie
Chrome
Bagel
Cityville Citizens
Transcript
TBA
Cast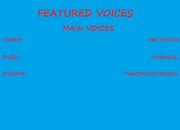 Mr Pookie as Pookie
TheChromePerson as Chrome
IAmBagel as Bagel
Viewership
This episode was viewed by 2.012 million viewers on its premiere night.
Trivia
This is the first episode of Season 3.
The episode is rated TV-PG due to violence.
Ad blocker interference detected!
Wikia is a free-to-use site that makes money from advertising. We have a modified experience for viewers using ad blockers

Wikia is not accessible if you've made further modifications. Remove the custom ad blocker rule(s) and the page will load as expected.