"retteb tub, noedolekcin!" - Tagline

Noedolekcin is a channel that is better than nickelodeon. Here is why.
Shows
Normal noedolekcin shows mainly old aquired programming, and old nick programming.
Current programming
Spongebob Squarepants (Seasons 1-3)
Animaniacs
The angry beavers
Looney tunes
Yogi bear
The rocky and bullwinkle show
Garfield and friends
Tiny Toon Adventures
Phineas and ferb
Oh Yeah! Cartoons
Doug
Rocko's Modern Life
Courage the Cowardly Dog
Atom Ant
The New Scooby Doo Movies
Scooby-Doo, Where are you!
The Scooby Doo Show
The Flintstones
Dastardly and Muttley in Their Flying Machines
The Huckleberry Hound show
Hong Kong Phooey
The New Yogi Bear Show
Pac-Man
Pound Puppies
Top Cat
Wally Gator
Cartoon Planet
Duck Dodgers
The Pink Panther Show
The New Pink Panther Show
The All New Pink Panther Show
Underdog
Wacky Races
Tom and Jerry Tales
Cow and Chicken
Foster's Home for Imaginary Friends
The Jetsons
2 Stupid Dogs
The Bugs Bunny Show
The Cartoon Cartoon Show
Dexter's Laboratory
The Powerpuff Girls
Felix the Cat
The Tom and Jerry Comedy Show
Former programming
Noedolekcin currently is showing everything, no programming taken off yet.
Blocks
nickelodeon mirror
Nickelodeon mirror is a block of noedolekcin. It's logo is the nickelodeon logo with mirrored letters.
It shows every Wednesday morning.
It airs original programming. Shows airing on it are:
shows on nickelodeon mirror
Nickelodeon! Cartoon Adventures
Nickeloblox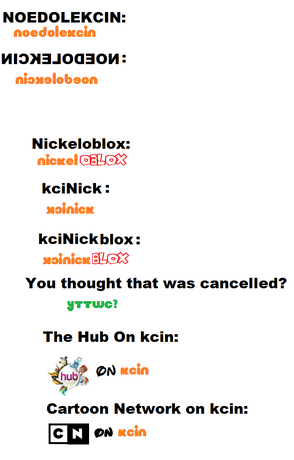 Nickeloblox takes many different things from Nickelodeon mirror and Nickelodeon and has it be done with roblox characters, from the first spongebob episode to the Nickelodeon Studios opening video.
It shows every Friday morning.
kciNick
Episodes from shows of Nickelodeon Mirror and Nickelodeon, but in reverse!
It shows every Sunday night.
kciNickblox
kniNick, but with things from Nickeloblox.
It shows every Thursday morning.
You thought that was canceled?
Shows you thought were cancelled and never made, made!
It shows every Monday night.
The Hub On kcin
The best shows on The Hub, showing every Sunday morning on kcin!
Cartoon Network on kcin
The best shows on Cartoon Network, showing every Tuesday night on kcin!
Saying the Name
noedolekcin is a really hard word to say correctly, so people just pronounce it as "no dole kin".
Ad blocker interference detected!
Wikia is a free-to-use site that makes money from advertising. We have a modified experience for viewers using ad blockers

Wikia is not accessible if you've made further modifications. Remove the custom ad blocker rule(s) and the page will load as expected.