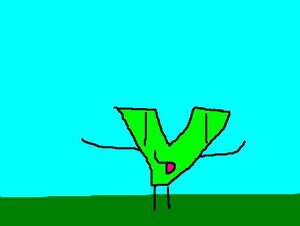 Nickelodeon World is a special theme park created by Sr.Wario. It will open on January 2, 2012. It was created because Wario felt that Disney had a giant magical theme park, Nick should have one too. The park is not only about Nick, but has fanon-themed rides too in a special area called Fanonland. It will open in San Diego, California.
List of Areas
Cartoon Super Studio
A large area based on Hollywood. It has a variety of theaters, cartoon coasters, shops, and restaurants.
Fanonland
A fictional town where fan cartoons live. It's main attractions are Y-Guy 4D! and Nicky's Superhero Speedrun Coaster.
SpongeBob and Gray's Undersea Adventure Park
A park of its own almost! It takes place in a combination of Grey the Shrimp and SpongeBob's home towns. It features sea creature shows too, like Sea World. Almost all of the rides are underwater and are based on SpongeBob SquarePants and The Adventures of Grey the Shrimp.
Resort
The park also has a resort with a pool and an exclusive dining place, Cartoon Cafe.
Prices
0-2: FREE
3-10: $ 50
11-18: $75
19-30: $ 100
31-60:$ 150
61 and older: $ 75
List of Attractions
Cartoon Super Studio:
Korra's Airbending Rush(Roller Coaster)
Jimmy's Jetpack Super Simulator(Motion Simulator)
Po's Karate Kar Krash(Bumper Cars)
Planet Sheen:Plunge to Earth(Like Twilight Zone: Tower of Terror)
T.U.F.F Blaster Training(Like Buzz Lightyear: Astro Blasters)
Fairly Odd Wish Spin(Like Dumbo)
The Penguins of Madagascar: ZOO TOUR!(Motion Simulator)
Fanboy and Chum-Chum vs. THE WORLD!!(Roller Coaster)
Fanonland:
Nicky's Superhero Speedrun(Roller Coaster)
Y-Guy 4D!(4D Show)
MattBoo's Haunted House(Like Haunted Mansion)
Rainbow Dash's Race(Actual Race/Sim)
Asteroid Andy's Rocket Ride(Duplicate of Wish Spin,but with Asteroid Andy characters.)
Invader Rob's Irken Coaster(Roller Coaster)
YOU Vs LT Fan(Motion Simulator)
Journey to WeirdWorld(Roller Coaster)
SpongeBob and Grey's Undersea Adventure Park:
Screamin' with SpongeBob(Roller Coaster)
Grey's Lazy Boat Ride(Boat Ride)
Patrick's Pit Plunge(Roller Coaster) NOTE: This was made to popularize The Patrick Show
SpongeBob's SUPER friends(Animal Show)
Gray's Aquarium(Aquarium)
SpongeBuck's History Howdown(Animatronic Horse Ride)
Gray's Escape from LT Shark!(Roller Coaster)
Sandy's Land Critter Round-Up!(Animal Show)
Cartoon Super Studio: 8
Fanonland: 8
SpongeBob and Gray's Undersea Adventure Park: 8
Total: 24
Resteraunts and Shops
1=Shop and 2=Restaurant
1.Mr. Krab's Souvenirs for $
2. Krusty Krab
1. The Gray Shop
2. Nicky and Brandon's Burgers
1. Y-Guy Club
1. Hoops and Yoyo's Hallmark Shop
2. Cartoon Cafe
2. Korra's Bending Buffet
1. TUFF STUFF
2. Po's Noodles
1. WeirdFood
Ad blocker interference detected!
Wikia is a free-to-use site that makes money from advertising. We have a modified experience for viewers using ad blockers

Wikia is not accessible if you've made further modifications. Remove the custom ad blocker rule(s) and the page will load as expected.