MoonFace Animation is an animation studio that will be producing all episodes of some crazy show with the deviantART mascot among other shows for nick, as well as Cartoon Network.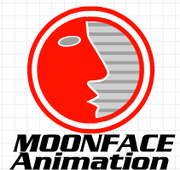 The Logo
The studio's print logo (see picture) is a stylized pictue of the moon with a face on half of it. The animated logo starts in a dark room. Creaking noises are heard everywhere, and then the screen brightens up slowly. The whole screen is now white, and we fade to the clouds. We then zoom out to see Earth with the Viacom logo in it's 2006 font. Then the Viacom logo crumbles to piceces that float to the outer unknown of space as the Earth unfolds to reveal the MoonFace logo.
Variants
On the pilot episode of The Epic Adventures of Fella, Fella says, as the Earth unfolds, "Welcome to a new world of animation."
On trailers and on TV airings, the logo is sped up and the trailer's music or the show's end theme plays over it.
On shows produced for Cartoon Network, the Viacom logo is replaced with "PRODUCED FOR CARTOON NETWORK"
On video games, the Viacom logo is omitted, the music is 8-bit and "Animation" is replaced with "iNTERACTiVE"
At MoonFace Animation, there is a coffee maker in the break room with the MoonFace logo on it. Below it, the words MoonFace Animation are replaced by "Enjoy your Coffee"
Ad blocker interference detected!
Wikia is a free-to-use site that makes money from advertising. We have a modified experience for viewers using ad blockers

Wikia is not accessible if you've made further modifications. Remove the custom ad blocker rule(s) and the page will load as expected.