These are the episodes for The Patrick Show .
(Only Wario,Bagel,MattBoo, and Rob can make episodes.)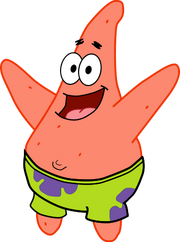 Season 1
1. What's A Pilot?: Patick and SpongeBob go on vacation, but Patrick actidently falls in a pit and makes some new friends. (Airdate: 7-1-12)

2. Fight!: Mugget challenges Patrick to a wrestling match. (Airdate: 7-4-12)
3. Bad Guys on Sunday Mornin': Plankton's evil russian cousin Drake von Plankton falls in "The Pit",and tries to take over!(Airdate: 7-11-12)
4. Birthday: It's Charline's birthday,so the crew try to throw a great party for her.(Airdate: 7-18-12)
5. Jellyfishing Academy: TBA
6. Meet Mindy(AGAIN): TBA
7. The Patrick Chronicles: Patrick tells stories.(8-9-12)
8. Kung-Fu Patrick: TBA
9. Patrick Says: TBA
10. TBA
11. TBA
12. TBA
13. TBA
14. TBA
15. TBA
16. TBA
Ad blocker interference detected!
Wikia is a free-to-use site that makes money from advertising. We have a modified experience for viewers using ad blockers

Wikia is not accessible if you've made further modifications. Remove the custom ad blocker rule(s) and the page will load as expected.