Grudge and Buttons! 
Genre:
2-d Flash cartoon 
Creator:
CCs and Cream 
Director:
Amy Winfrey 
Developer:
Nickelodeon Productions 
Starring:
Peter Merryman

Amy Winfrey 

Voices:
Peter Merryman - Grudge

Amy Winfrey - Buttons 

Theme composer:
Amy Winfrey 
Opening theme:
The Journey Begins... 
End theme:
Making Fiends (Instrumental) 
Number of seasons:
1 
Number of episodes:
26 
Location:
Clamburg (episode 1)

Around the World 

Runtime:
30 minutes (4 seven minute shorts, 1 minute intro, 1 minute outro) 
First run:
2010-present 
First aired:
2010 
Preceded by:
Making Fiends series 
Related:
Making Fiends series 
Offical website:
Nickelodeon Fanon Wiki
Grudge and Buttons! is an American animated television series based upon Making Fiends (web cartoon) and Making Fiends (TV series). The series premiered on the stroke of midnight on December 25, 2010 on Nicktoons.
Synopsis
the series is about Vendetta's fiend hamster, Grudge, having some feelings that she doesn't want him anymore so he runs away from her sight. Meanwhile, Buttons, Charlotte's hamster runs away because of harrasment. With Buttons meeting up with Grudge and them now finding a new home, a new journey begins.
Characters
Grudge
Grudge was Vendetta's giant hamster fiend. He used to fill the role of Vendetta's sidekick and thug enforcer until he thinks that she doesn't want him anymore. Grudge grunts and growls to express himself. In the Making Fiends TV series, it is expanded more on his feelings for Vendetta, showing that he really does care about her and her safety. Vendetta usually referrs to him as "Hamster", whereas Charlotte is the only person to date who refers to him as "Grudge". Now, he is with Buttons, finding a nice new home to have. He is voiced by Peter Merryman.
Buttons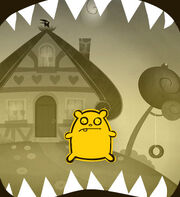 Buttons was Charlotte's pet hamster, and her "favorite hamster in the whole world". He resembles a miniature Grudge. According to Charlotte, Buttons likes peanuts and buttons. His prominent feature is the high-pitched squeal he makes when he is scared. He is sometimes seen to be scared of Charlotte as she treats him more like a plaything than a pet and that's why he ran away. Now, he is with Grudge, finding a nice to home to have. He is voiced by Amy Winfrey.
Places
Clamburg (Episode 1)
Clamburg used to be a peaceful town until Vendetta, a mean green little girl, and her fiends, monsters, moved in.
North America (Season 1)
Grudge and Buttons head outside from their cramped little hometown of Clamburg to the rest of the United States. They also travel to the cold parts of Canada. They also head down southeast to the Carribeans, then move southwest to Mexico and the rest to Central America.
Coming Soon
Episodes
Places (Information)