Regions and countries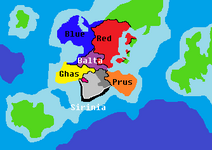 Eden is an ancient utopia hidden from the outside world and the base for the Immortals. It is located atop a mountain range in the Indian Ocean.
The Elysian Isles is the 51st state of the United States located off the shore of New York. Similar to Hawaii, the Elysian Isles is an archipelago and consists of three main islands and several smaller islands. The main islands are Asphodel, Avalon, and Elaine.
The Placentos Islands are a group of islands in the middle of the Pacific Ocean.
Shinai Yoku is a strict totalitarian state and the birthplace of Wario. It is enclosed by a large and barren coastal desert known as the Sea of Sands, which connects to the Elysian Isles. It is ruled by the tyrant King Tryklo.
Cities
Anytown is the setting of Nicky. It is described as a bland and boring city that bears many adventures. It is the birthplace of heroes Brandon and Nicky. Anytown is located in the Four Corners.
Elysium is the state capital and most populous city in the Elysian Isles, located on the island of Asphodel. It is the main setting of both Squad Æ and Syndicate and serves as a major hub for heroes and villains alike.
Fort Pooda, California, is the main setting of Bandit Territory. The city is best known for being the go-to hot spot for crime and is just generally a horrible place to live but is somehow heavily populated despite that.
Latroplis is the main setting of The Justice Mavericks.
Malware City, Florida, is the main setting of HTML: The Animated Series.
Miskatonic Valley, Massachusetts, is the main setting of Animal Control. The city is infamous for its occult phenomena.
New City, Oregon, is the main setting of The Bagel Show. It is concealed in a unbreakable barrier, making it next to impossible to enter or leave.
Quibblobicus is the main setting of The Bob Boogleface Show.
Planets
Extradimensional realms