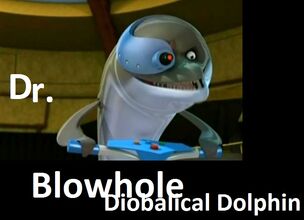 Dr. Blowhole: Diobolical Dolphin is a show about Dr.Blowhole. This show is a spin-off the Penguins of Madascar. In this show, it appears there is a change. Dr. Blowhole is the hero while Skipper has his role as an antagonist.
Characters
Dr. Blowhole: An evil dolphin who wants to take over the world. He is the main prontogonist of the show.
Chrome Claw: A character who died outside the series, but is mentioned in many episodes.
Skipper: The main antagonist of the series. He is a penguin who always thinks he's so cute and cudly, but his head is as flat as a pancake (LOL!).
Dr. Curltail: A cyborg seahorse who is new to the villain world. Dr. Blowhole helps him with his plots, and he helps Blowhole with his.
Lobster Minions: These are lobsters that obey their leader. These are minions that Curltail and Blowhole often share.
Song
Opening Theme
Ending Theme
More to come!
Episodes
List of Dr. Blowhole: Diabolical Dolphin episodes
Gallery
Ad blocker interference detected!
Wikia is a free-to-use site that makes money from advertising. We have a modified experience for viewers using ad blockers

Wikia is not accessible if you've made further modifications. Remove the custom ad blocker rule(s) and the page will load as expected.