Rated TV-PG - Contains material that parents may find unsuitable for younger children

This show, Bouncy Ballz, is rated TV-PG, meaning it contains content that may be inappropriate for younger readers.

Bouncers Is a show that airs on
Spikes/TNT
and is Almost on its third season, which premiers September 8th. It was originally a web cartoon called "Bouncy Ballz" that was on Newgrounds.com, but it later got picked up by spikes and now is airing episodes on that channel.
Bouncy Ballz/Bouncers 
 
Genre:
Action, Adventure, Comedy 
Creator:
Dimentio8 (revived by ThatKoop) 
Director:
Invader Rob 
Developer:
IAmBagel 
Presenter:
HometstarSB9 
Starring:
Bouncer, Lil' Squeaky, Noobingtonz, Diamond 
Narrator:
Tom Kenny 
Number of seasons:
5 (Original)

Ongoing (Reboot) 

Number of episodes:
125 (Original)

Ongoing (Reboot) 

List of episodes:
Bouncers Episodes
Executive producer:
HomestarSB9 
Producer:
Invader Rob 
Asst. producer:
IAmBagel 
Production Company:
SCMY (2016)

IIII Studios (2017) 

Editor:
Dimentio8, Invader Rob, ThatKoop 
Runtime:
22 Minutes/11 Minutes 
Original Channel:
TNT (January 2016-December 2016)

Spikes (December 2016-Present) 

Picture format:
16:9 HDTV 
First aired:
July 7, 2012 (Original)

January 8, 2016 (Reboot) 

Last aired:
December 13, 2014 (Original)

July 5, 2019 

Offical website:
spikes.com/shows/bouncers
Characters
Bouncer- An energetic blue ball made of very bouncy material.
Lil' Squeaky- Bouncer's baby brother made of plastic.
Noobingtonz/Narcictic- A lazy green ball made of metal.
Tina- Bouncer's love intrest and a fuzzy pink ball.
Metaman- The main antagonist who is a mad scientist. He is a metal ball
Diamond- The most popular girl in school. She is a diamond.
Beanson- The school teacher who has anger management issues. He has similarites to Benson from Regular Show.
Tanga- Beanson's wife who is very calm. She is also the music teacher of the preschool around the block.
Voices
Dimentio8- Bouncer, Beanson
Tara Strong- Lil' Squeaky, Diamond, Tina, Tanga
Invader Rob- Metaman, Noobingtonz
TBA
Gallery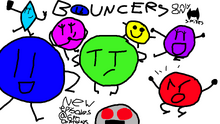 Find the gallery
here
Ad blocker interference detected!
Wikia is a free-to-use site that makes money from advertising. We have a modified experience for viewers using ad blockers

Wikia is not accessible if you've made further modifications. Remove the custom ad blocker rule(s) and the page will load as expected.