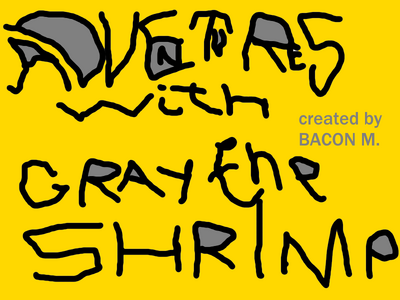 Adventures with Gray the Shrimp 
(often simply referred to as 
Gray the Shrimp 
or just 
Gray
) is a British animated television series created by 
BaconMahBoi
 for 
BaconNetwork
. The series focuses on Gray, a grey shrimp who is the last of his kind and must try and survive in the air world along with his aqua marine friends. The series premiered on July 20, 2015 on BaconNetwork.
Premise
Gray the shrimp is the last of his kind and is way overprotected in the water. He makes a daring escape into the real air world (with water helmets) along with his friends Limp the lobster and Jessica the goldfish. But a sea hunter will stop at nothing to get his hands on Gray.
Ad blocker interference detected!
Wikia is a free-to-use site that makes money from advertising. We have a modified experience for viewers using ad blockers

Wikia is not accessible if you've made further modifications. Remove the custom ad blocker rule(s) and the page will load as expected.